What's in This Whitepaper?
This whitepaper provides insight into SVHC reporting requirements associated with amendments to the EU Waste Framework Directive, and what is expected of companies that are in scope. It also examines the compliance landscape and addresses how companies can meet the growing pressure to remove SVHCs from their supply chains.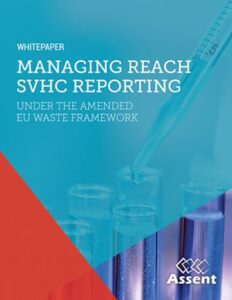 Key Insights Include:
A summary of your REACH requirements
An overview of the EU Waste Framework as it applies to SVHC reporting
What is the EU circular economy
How to submit data to the new database
And more!
Download your copy of the whitepaper now!