What's in this eBook?
With a foreword by Verdantix, the REACH Handbook is your complete guide to substances of very high concern (SVHC) compliance. This eBook is a top-to-bottom guide to the REACH Regulation, how it impacts your business, and how to implement a program to manage SVHC data.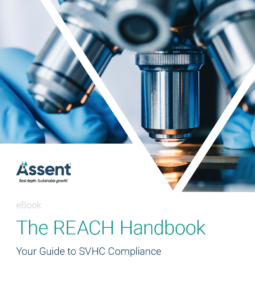 Key Insights Include
How to determine whether your company is in scope of the EU REACH Regulation

How to prepare your program for the risks posed by per- and polyfluoroalkyl substances (PFAS) in your supply chain.

Preparing your supply chain for new SVHCs

Expert insight into managing SVHC data to maintain continuous market access 

How to implement and manage a supply chain data management program for the REACH Regulation 

…And more!
Don't lose market access. Protect your company from the risks of non-compliance with EU REACH, and build a program that is resilient to change.
Download your copy of the eBook now.