What's Included in the Forrester Study?
Hard data, customer testimonials, and a formula to help you achieve success (and a 304% ROI!) with Assent.
Assent commissioned Forrester Consulting to conduct a Total Economic Impact™ study to understand the potential ROI of Assent. The results?

Manufacturers that invest in the Assent Supply Chain Sustainability Platform experience up to 304% ROI. This is a significant number and we're proud of it. It shows how successful our customers are with Assent.
We want to help you experience this same success, too.
This study from Forrester will help you evaluate the potential impact the Assent platform will have on your company and your supply chain. It provides you with a detailed model that's based on months-long research conducted by Forrester. They interviewed four Assent customers, aggregated their experiences and benefits, and combined the results into one composite organization. You can use this model to estimate your own costs and benefits and learn how Assent makes a measurable impact on product compliance programs. Plus, you can glean insights directly from our customers, like this one:
"One major benefit that we see is the supply chain response. That benefit is really, really important for us because educating suppliers takes effort. It's more than just issuing emails. It requires phone calls. It requires online guidance for filing declarations and understanding them. The major advantage is [that] Assent really helps get responses from our suppliers." — Corporate regulatory compliance manager, electronics.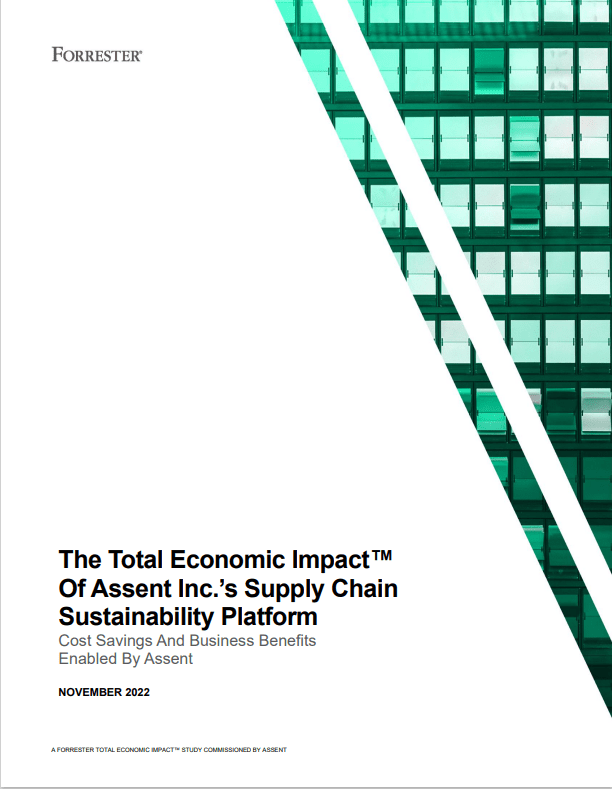 Highlights From the Forrester Study
In this study, you'll see how the Assent platform helps manufacturers:
Reduce supplier onboarding and engagement costs by 50–100%
Quantify the value of non-compliance risk (and why it's more than just potential fines)
Realize an ROI of 304% in three years
Improve response rates from suppliers
Achieve positive ROI in less than six months