What's included in this overview?
This overview provides a description of Assent Compliance's Full Materials Disclosure Solution, as well as key features and benefits.
By collecting FMDs from your entire supply chain, you will know every material and substance within your product, down to the homogenous level. Having a complete understanding of a product's composition allows companies to meet their regulatory requirements annually without needing to revisit their supply chain.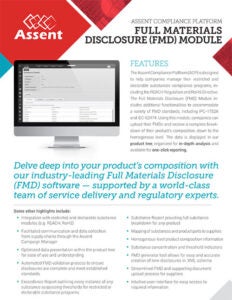 Key features include:
In-depth analysis
One click reporting
Integrations with restricted and declarable substances modules
Assent Compliance empowers companies to leverage FMDs and build a powerful and proactive restricted and declarable substance compliance program.