The Buy American Act of 1933 is a long-standing U.S. law that requires U.S. federal departments to prefer U.S.-made goods in their purchasing. The act provides advantageous pricing to American companies bidding on federal procurement contracts if:
The unmanufactured products are mined or produced in the United States, or
The cost of components in a manufactured item exceeds 50 percent of the total cost of all components of the item and the product is manufactured in the United States. This threshold will increase to 75 percent by January 11, 2020. Additionally, 95 percent of iron and steel used in products must be sourced from the U.S. by that time.
What Products Are in Scope of the Buy American Act?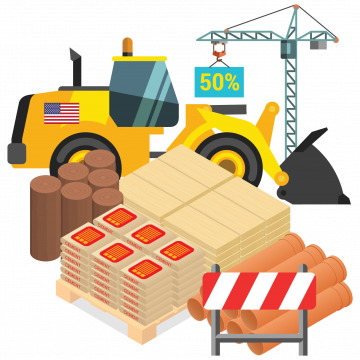 The Buy American Act applies to domestic end products and domestic construction materials. Construction materials must be mined or produced in the U.S. to be eligible. Companies must be able to show that at least 50 percent of domestic end products can be attributed to components mined, produced or manufactured in the U.S. The 75 percent threshold is determined by cost of components. An individual component can come from outside of the U.S., as long as the balance of the total end unit meets the American-made minimum.
What Data Do Companies Need to Collect?
Companies that wish to bid on federal procurement contracts must be prepared to prove the country of origin of their product, which requires:
Current data on suppliers.
Origin of product components, demonstrated through country of origin certificates.
Documentation to show the percentage of the product that is verifiably American-made.
What is the Difference Between Buy American & Buy America?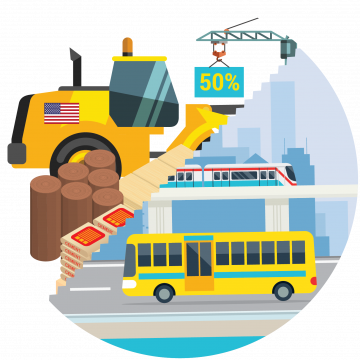 Although Buy America and Buy American have similar names, they are different laws. The Buy America Act also requires procurement processes to favor American-made goods, but it only applies to purchases related to rail or road transportation. This could include highways, transit systems and railroads.
Buy American Compliance
Companies must collect and track country of origin certificates and product component data to manage their Buy American requirements.
Assent's Trade Classification & Origin Module allows you to:
Easily survey your supply chain and collect country of origin certificates.
Immediately view preferential free trade agreement status.
Collect supporting documentation.