What's in This Guide?
If your company sells medical devices or their parts globally, especially within the European Union and U.S., there are a range of requirements you must meet in order to maintain market access and avoid financial penalties. This guide outlines Assent's solution for medical device companies as they manage unique requirements associated with supply chain due diligence in the medical device industry.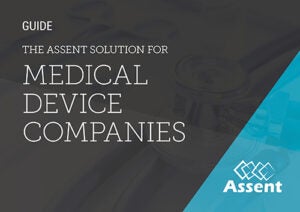 Key Insights Include:
Why your company needs a platform solution
The value of centralizing data under one platform
How the Assent Compliance Platform manages campaigns and supplier declarations
Assent's custom solution for medical device companies
And more!
Protect your company from the risks associated with global regulatory requirements. Download your copy of the guide now.