What's in This Guidance?
This guidance explains the responsibilities of non-EU companies under the revised EU WFD, how they pertain to SCIP database submissions and how they can be met by leveraging foreign users, per the European Chemicals Agency.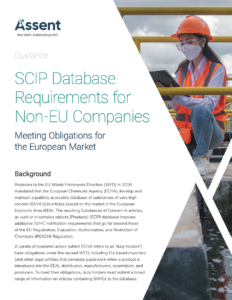 Key Insights Include:
Why non-EU companies must work closely with EU-based importers and other supply chain actors.
How requirements for the SCIP database extend beyond existing SVHC reporting obligations.
What foreign users are and how companies can leverage them to ensure accurate SCIP submission
Download your copy of the guidance now!