What's in This Guide?
If your company sells medical device parts into the EU, you may need to acquire data on any products in scope of the EU MDR in order to maintain market access and avoid reputational damage. However, many companies have yet to implement the systems, processes and training needed to meet their requirements. This guide outlines eight steps to an effective EU MDR program, and suggests solutions for companies as they manage their supply chain data and educate suppliers on requirements.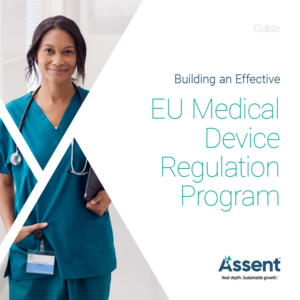 Key Insights Include:
How to evaluate the scope of your EU MDR program.
How to determine the right sources from which to acquire data.
Information on notified bodies and CE marking.
How Assent helps companies navigate the landscape.
And more!
Protect your company from the risks associated with medical device requirements. Download your copy of the guide now.