What's Included in This Case Study?
Corsair wanted to champion its efforts in ESG, and set a strong example with reports backed by supply chain data. This case study explains why Corsair built ESG into its existing program with Assent to dive deep into its supply chain to bring out meaningful data for defensible ESG reporting.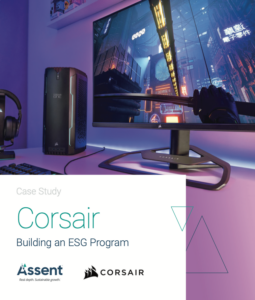 Key Features Include:
Why Corsair chose Assent
How Assent helped Corsair educate its supply chain
Results from Corsair's ESG and Conflict Minerals program with Assent
How Assent is supporting Corsair's future growth through supply chain sustainability management
Customer Story
Why Corsair Gaming Inc. Chose Assent
Companies like Corsair Gaming Inc. rely on Assent to help them build a defensible ESG program. They achieved impressive results, including an 85% supplier response rate across six ESG topics.
Watch the video to see why Corsair chose Assent, and read the case study to learn about their results.