What's in This Whitepaper?
James Calder, Assent's Vice President of Compliance and Regulatory Programs, explores the definition and provides insight on how companies will be affected, and what they need to do in order to apply the new interpretation to their compliance programs.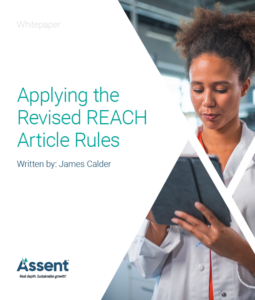 Whitepaper Contents
Topics Include:
The EU REACH Regulation and the importance of articles.
Understanding "Once an Article, Always an Article."
How to adapt your program to respond.
…And more!