What's Included in This Case Study?
This case study examines the challenges ESCATEC faced in its internal programs for the Registration, Evaluation, Authorisation and Restriction of Chemicals (REACH) Regulation; the Restriction of Hazardous Substances (RoHS) Directive; the Dodd-Frank Wall Street Reform and Consumer Protection Act; and the EU Conflict Minerals Regulation. It examines why the company chose to work with Assent to meet its supply chain data management requirements, and how the Assent Compliance Platform helped the company achieve long-term program success.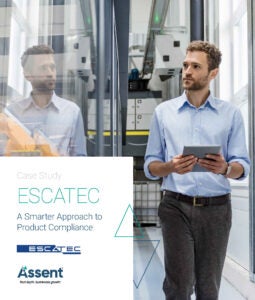 Key Features Include:
Why ESCATEC moved to a consolidated solution for its supply chain data management requirements
How ESCATEC and Assent worked together to increase supplier engagement and improve data quality
The features and services that set Assent apart from the competition
…And more!
Download the case study now!