What's Included in This Case Study?
As environmental, social, and governance (ESG) transparency grew in demand, CC Jensen needed speedy and reliable access to supply chain data and to implement a responsible minerals program. Even though CC Jensen is not in scope of the Dodd-Frank Wall Street Reform and Consumer Protection Act or responsible minerals legislation, their customers are, and lacking this data became an obstacle to market access. That's why they turned to Assent for a supply chain sustainability solution.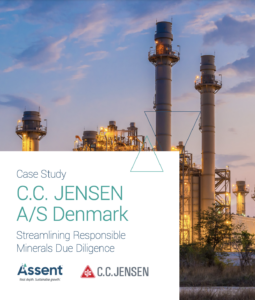 Key Features Include:
Why CC Jensen chose Assent

How CC Jensen was able to get defensible data to support its responsible minerals claims

How they use their responsible minerals program to add value to contract negotiations

…And more!
Download the case study now!