Why Read the Guide
This guide discusses the differences between building and buying — specifically the hidden risks that come with building internally and the cost savings associated with buying.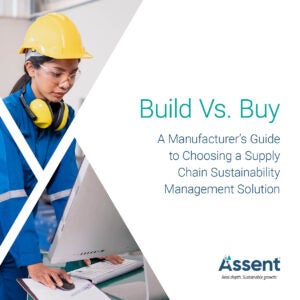 You'll also learn: 
What a robust product compliance program entails
The importance of regulatory and program expertise
How your organization benefits from a strong supply chain sustainability management solution like Assent
Now, more than ever, it's important that manufacturers set themselves up for success in the global marketplace. Whether addressing product compliance, ESG, or trade compliance, the right platform solution will help you manage risk and follow evolving regulations. Download your copy of our guide today!