On March 3, 2022, Environmental Protection Agency (EPA) Administrator Michael S. Regan signed a final rule amending the deadline surrounding PIP 3:1.The final rule, which is forthcoming, will extend the compliance date to October 31, 2024, giving companies breathing room and much-needed time to eliminate PIP 3:1 from their supply chain.
Despite the compliance enforcement date extension, it's important to note that documentation obligations are required as of March 8, 2022. Work should begin immediately to identify PIP 3:1 in the supply chain and to begin the phase out process.
The Decision to Delay
Following the initial January 2021 final rule, stakeholders voiced their concerns surrounding the small window of time between the final rule's announcement and the new compliance date. These stakeholders included both the electrical and electronics manufacturing sector, along with their customers. 
The EPA said that these concerns were not relayed to them until after the January 2021 rule on PIP 3:1 went into effect. Therefore, the EPA initially delayed the compliance date to March 8, 2022, in order to gather insight from stakeholders and businesses.
Following this, the EPA further delayed the PIP 3:1 compliance date to October 31, 2024, in an effort to address "hardships inadvertently created by the January final rule on PIP 3:1." The flexibility of the EPA shows a desire to achieve greater supply chains sustainability and not simply punish companies. However, it also demonstrates a resolve to remove harmful substances from U.S. supply chains.
What's Next for PIP 3:1 and Other PBT Chemicals?
The EPA has stated that it intends to release separate rulemaking that will cover PIP 3:1 and other Persistent Bioaccumulative Toxic (PBT) chemicals. These rules are expected in the spring of 2023.
Furthermore, the EPA will consider relevant information surrounding PIP 3:1 and the delayed compliance date. While the EPA continues to engage with industry regarding the feasibility of the deadlines, companies must take action now to prevent loss of market access and operational disruption caused by TSCA restrictions.
While PIP 3:1 has its own deadline, these four PBT chemicals have been banned since March 8, 2021:
2,4,6 TTBP (EC: 211-989-5, CAS: 732-26-3)

PCTP (EC: 205-107-8, CAS: 133-49-3)

DecaBDE (EC: 214-604-9, CAS: 1163-19-5)

HCBD (EC: 201-765-5, CAS: 87-68-3)
What's on the Horizon for the EPA?
In 2022, the EPA will perform a risk evaluation of these high-priority substances.
The "First 10" chemicals that will undergo risk evaluation include:
1,4-Dioxane (EC:

204-661-8, CAS: 123-91-1)

1-Bromopropane (EC: 203-445-0, CAS: 106-94-5)

Asbestos (EC: 603-721-4, CAS: 1332-21-4)

Carbon Tetrachloride (EC:

200-262-8, CAS: 56-23-5)

HBCD (also known as Cyclic Aliphatic Bromide Cluster)

(EC:

221-695-9, CAS: 3194-55-6)

Methylene Chloride (EC: 200-838-9, CAS: 75-09-2)

NMP (EC: 212-828-1, CAS: 872-50-4)

PV29

(EC: 201-344-6, CAS: 81-33-4)

Tetrachloroethylene, also known as perchloroethylene (EC: 204-825-9, CAS: 127-18-4)

Trichloroethylene (EC: 201-167-4, CAS: 79-01-6)
Of these ten chemicals, HBCD and PV29 are the most likely to be first.
In December 2019, the EPA designated 20 high-priority chemicals to be reviewed. These "Next 20" chemicals include:
p-Dichlorobenzene (EC:

203-400-5, CAS: 106-46-7)

1,2-Dichloroethane (EC:

203-458-1, CAS: 107-06-2)

trans-1,2-Dichloroethylene (EC:

205-860-2, CAS: 156-60-5)

o-Dichlorobenzene (EC:

202-425-9, CAS: 95-50-1)

1,1,2-Trichloroethane (EC:

201-166-9, CAS: 79-00-5)

1,2-Dichloropropane (EC:

201-152-2, CAS: 78-87-5)

 

1,1-Dichloroethane (EC:

200-863-5, CAS: 75-34-3)

Dibutyl phthalate (DBP) (EC:

201-557-4, CAS: 84-74-2)

Butyl benzyl phthalate (BBP) (EC:

201-622-7, CAS: 85-68-7)

Di-ethylhexyl phthalate (DEHP) (EC:

204-211-0, CAS: 117-81-7)

Di-isobutyl phthalate (DIBP) (EC:

201-553-2; CAS: 84-69-5)

Dicyclohexyl phthalate (EC:

201-545-9, CAS: 84-61-7)

4,4'-(1-Methylethylidene)bis[2,6-dibromophenol] (TBBPA) (EC:

201-236-9, CAS: 79-94-7)

 

Tris(2-chloroethyl) phosphate (TCEP) (EC:

204-118-5, CAS: 115-96-8)

Phosphoric acid, triphenyl ester (TPP) (EC:

204-112-2, CAS: 115-86-6)

Ethylene dibromide (EC:

203-444-5, CAS: 106-93-4)

1,3-Butadiene (EC:

203-450-8, CAS: 106-99-0)

1,3,4,6,7,8-Hexahydro-4,6,6,7,8,8-hexamethylcyclopenta [g]-2-benzopyran (HHCB) (EC:

214-946-9, CAS: 1222-05-5)

Formaldehyde (EC:

200-001-8, CAS: 50-00-0)

Phthalic anhydride (EC:

201-607-5, CAS: 85-44-9)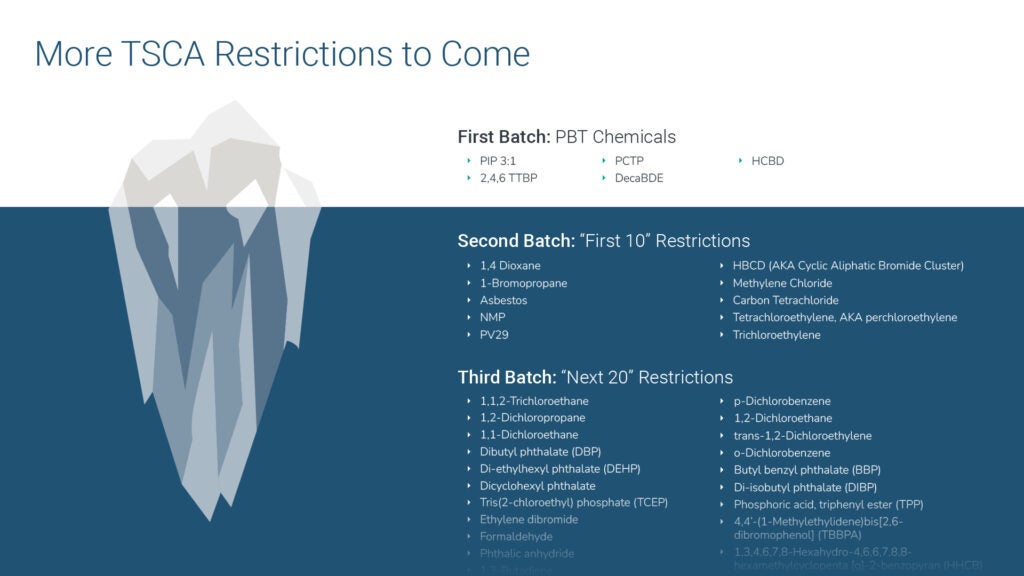 Consequences for Manufacturers
Considering the number of chemicals being reviewed, manufacturers should be prepared to rigorously investigate their supply chain and eliminate any PBT substances. Additionally, it's strongly recommended that companies proactively begin the difficult process of removing PIP 3:1 before the new compliance deadline, along with chemicals like PV29 and HBCD.
This will be a large undertaking, especially considering the prevalence of PIP 3:1. However, in order to attain compliance and maintain access to the U.S. market, it will be of the utmost importance to get out in front of upcoming restrictions and to evaluate current supply chain sustainability.
How Assent Can Help
Keeping track of TSCA requirements can be a difficult process, both in terms of maintaining focus on new rules and deep mapping your supply chain for any restricted substances. 
As the leader in supply chain sustainability management, our worldwide team of regulatory experts can help you keep track of TSCA updates and look deep into your supply chain to ensure you prevent operational disruption, avoid costly penalties, and maintain market access. This allows you to easily identify any substances that need to be removed from your supply chain and proactively take action.
For more information, please contact us at info@assent.com.