Product compliance and supply chain sustainability regulations should be the driving forces in your annual budget planning. But without a deep understanding of all the requirements, you'll be flying blind and putting your market access at risk. That's why Assent's regulatory experts included an entire chapter of regulatory deep dives in this year's Budgeting for Compliance & ESG eBook: Read on for a preview of the chapter and to get your free copy.
Chapter Two: Regulatory Deep Dive
New requirements increase the likelihood of program errors and slow down the compliance process as data collected from suppliers and other external partners — an existing pain point for many compliance programs — must now be evaluated against this changing regulatory backdrop. Professionals need to keep pace with these changes to identify and close gaps in their current supply chain data programs. 
In 2022, we continued to see how fragile global supply chains could be as widespread disruption affected nearly every industry. The Russian invasion of Ukraine and wide-scale labor shortages also impacted the pandemic recovery and hindered operations. Coupled with increasingly stringent regulatory measures, there has never been a greater need for deep compliance program enhancements. Supply chain transparency is key to anticipating the regulatory landscape and qualifying vendors proactively — crucial functions of a complete risk mitigation program. By examining regulatory trends, manufacturers can better predict and understand their future requirements, allowing them to budget effectively and prepare accordingly.
Companies must be aware of regulatory changes, particularly as enforcement actions grow. Moving into 2023, enforcement updates to be aware of include: 
The regulation of PFAS

Revisions to the REACH Regulation, which could significantly change how the regulation is enforced

Updates to the RoHS Directive, including a potential recast as RoHS 3

New substance restrictions under TSCA

The publicly-searchable SCIP database

The EU Market Surveillance Regulation, which puts new enforcement pressure on companies

Regulatory focus on protecting human rights including the UFLPA, SCDDA, and EU proposed ban on products made with forced labor

Investor pressure for deep ESG reporting and government crackdowns on greenwashing
As a result of these factors, planning for compliance is an exercise in foresight, flexibility, strategic program enhancement, and process efficiency. This chapter will provide you with an overview of how companies are updating their programs to manage new regulatory requirements, and what to expect in the next year.
Product Compliance
All around the world, governments are restricting the use of hazardous substances with greater frequency. The trend of regulating entire families of substances, as demonstrated by recent PFAS restrictions, underscores the need for deep supply chain transparency and supply chain communication. This chapter will explore what we know so far about proposed changes to key product compliance regulations and how manufacturers can prepare their programs for incoming requirements.
ESG
Investment firms like BlackRock Inc. are vocal proponents of ESG reporting, making ESG performance a key consideration in allocating the trillions of dollars they manage. There's also been a reciprocal pushback from certain groups, and even U.S. state governments opposing ESG investing. Investor pressure is a significant business driver promoting the development of ESG programs, but focusing on this angle ignores a crucial truth: ESG is a core compliance requirement for global companies, especially manufacturers.
The REACH Regulation
The European Commission plans to create a new European Audit Capacity (EAC) authority that will enhance REACH enforcement bodies with the ability to rapidly execute product recalls and recommend fines and other enforcement actions. Although this new task force is already ramping up, regulatory experts expect that REACH's next version — informally known as REACH 2.0 — will formally enshrine the EAC's role and responsibilities.
The EU Market Surveillance Regulation of 2019 harmonized the enforcement of EU regulations across individual member states, meaning the penalties for one country would be the same in any other. However, due to resource limitations and regulatory complexity, enforcement bodies continued to struggle to keep up. The EAC is a robust response to these shortfalls, making it more likely non-compliance is detected and penalized and raising the stakes for manufacturers. In 2021, a European Chemicals Agency (ECHA) investigation found as many as 78 percent of inspected goods ordered online were non-compliant with REACH. Non-compliance penalties include loss of market access and substantial fines.
Every six months, ECHA expands the substances of very high concern (SVHC) Candidate List. In-scope companies have six months to meet communication obligations to their downstream customers after the list expands. In addition to the bi-annual expansion of the list, REACH will have new restrictions and requirements related to PFAS. As of February 25, 2023, C9-C14 PFCAs — a subset of PFAS — will be restricted under REACH. All PFAS used in firefighting foams have also been proposed for restriction.
UFLPA
The U.S. UFLPA came into effect June 21, 2022. In August 2022 alone, the U.S. Customs and Border Protection (CBP) targeted over 800 entries with a value of over $266 million USD through the UFLPA and withhold release orders (WROs) — which halt imports at the U.S. border until an importer can prove the goods were made without the use of forced labor. For comparison, the CBP seized $481 million USD from 1,469 shipments for the entire 2021 fiscal year.
The speed at which the CBP has ramped enforcement is a sign this regulation will be a major factor in U.S. manufacturing for the foreseeable future. Companies will need accurate sourcing information for each part of their imported products. The CBP has indicated there's no allowable threshold of parts sourced from the XUAR, so whole products can be detained for a single XUAR-sourced component. 
"It is good to have a regulatory rule change to motivate you. I always found that working at GE, some of our best innovation came when we anticipated the change"
— Beth Comstock, Author and Former GE Vice Chair
The RoHS Directive
In accordance with Article 24 of RoHS 2, a review is currently underway to assess how the directive has worked in practice and achieved its objectives. In 2022, a public consultation surveyed stakeholders regarding potentially changing RoHS to a directive from a regulation, which would help unify application and enforcement across the EU. It also raised the issue of expanding the product list of in-scope electronic and electrical equipment (EEE) to include radio-frequency identification (RFID) technology and photovoltaic panels.
The EU is expected to propose new legislation to implement changes emerging from the consultation in the second quarter of 2023, which might see enforcement start in 2025/26.
The RoHS Directive currently restricts the use of 10 substances in EEE manufacturing, with the likelihood of two additional substances — tetrabromobisphenol A (TBBP-A) and Medium chain chlorinated paraffins (MCCPs) — being added soon. These products typically have thousands of parts and hundreds of suppliers, meaning any change to the directive takes significant resources from manufacturing compliance teams to address. The implementation of new obligations arising from a RoHS 3 iteration would heavily impact the compliance budgets of any manufacturer using EEE.
The SCIP Database
The EU WFD is a vital component of the European Commission's push to implement a circular economy. Under the legislation, companies are held responsible for the safety of workers during the end-of-life product phase (i.e., recycling, repurposing, reuse, and/or disposal).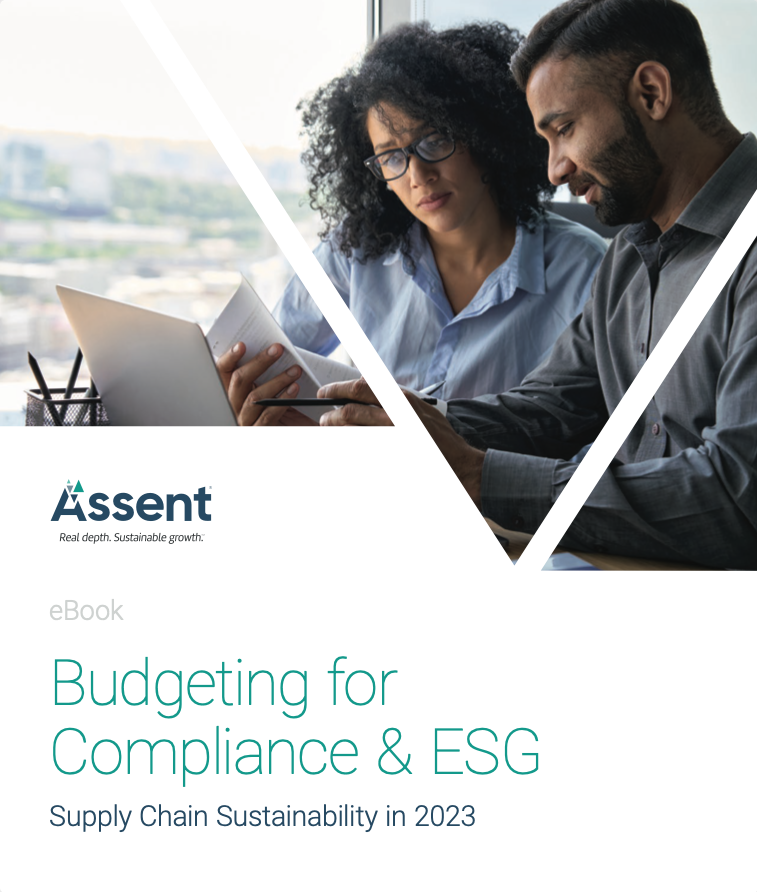 Access the Full eBook
Access the full catalog of regulatory deep dives by downloading Budgeting for Compliance & ESG: Supply Chain Sustainability in 2023. You'll get detailed information from Assent's team of regulatory experts on:
The SCIP database and the EU Waste Framework Directive (EU WFD)

The Toxic Substances Control Act (TSCA)

Proposition 65

PFAS 

Conflict minerals

The German Supply Chain Due Diligence Act (SCDDA)
In addition, the full eBook includes chapters on tools for supply chain sustainability and budgeting for compliance and sustainability, along with insights from Assent experts and industry leaders. 
Companies are required to evaluate their REACH SVHC data, acquire a new article data set for tagging product composition data, and submit a dossier to the SCIP database in the IUCLID data exchange format. The EU maintains that failure to do so will eventually lead to stops at customs, fines, and/or product recalls.