Sruthi Vinod
Senior Carbon Analyst at Brookfield Asset Management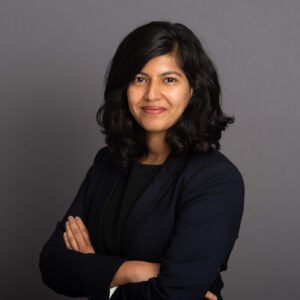 Senior Carbon Analyst with the Brookfield Renewables and Transition team, based out of London. Responsible for measuring the carbon impact and defining the decarbonisation targets for all investments to ensure their business plans are aligned with the objectives of the Paris Agreement and are set on a pathway to be net zero by 2050. This extends to engaging with the portfolio companies post closing to define the emission reduction and Paris Alignment plan by identifying decarbonization levers and mitigation activities.
Over 4 years of experience in climate change consulting with the big 4 worked on the development of climate strategies including decarbonisation plans for hard to abate sectors such as oil & gas, manufacturing as well as financial institutions.
As a former programme officer with the United Nations Development Programme, supported the development of the national mitigation strategy and GHG inventory of India as a part of it's biennial submission to the IPCC.
Holds a Masters degree in Climate Change and Sustainability Studies with a specialisation in energy economics and modelling.