Dejannae Lang
Executive Director, National ESG Council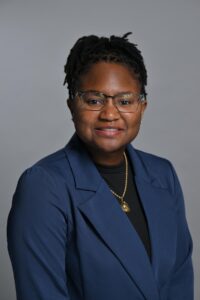 Dejannae Lang earned a Bachelor of Arts in Psychology degree from Florida International University, along with a Master's in Science in Industrial and Organizational Psychology from Keiser University. Currently she is finishing her PhD in Industrial Organizational Psychology scheduled to be completed in 2024. Dejannae has over 5 years of experience with identifying interpersonal skills to fit the proper work environment, diversity, equity, and inclusion issues and assisting organizations with leadership development, and servant leadership training. Her experiences and training in I/O psychology over time has sharpened her awareness to organizational/cultural relations, organizational processes, employee engagement, and employee development, employee well – being, and ESG related factors. She is currently certified as a Predictive Index Practitioner. Dejannae is multifaceted, as she serves as the National ESG Council's Executive Director. She also joined the dedicated science team at Workzinga as their Industrial and Organizational Psychologist and serves as an independent consultant for other organizations.
Higher Education
After completing her term in the U.S. Air Force directly after high school, Dejannae attended Broward College and Florida International University. She completed her Bachelor of Arts degree in Psychology and now is working towards her Doctoral and received her master's along the way in Industrial Organizational Psychology at Keiser University. Dejannae also received a certification for Diversity, Equity, and Inclusion in the Workplace from the University of South Florida.
For-profit
Dejannae has consulted for colleges, universities, public and private entities since 2019. She has specialized in providing presentations and trainings on servant leadership in the education sector, as well as others. She continues to provide strategic diversity, equity, and inclusion training and leadership development consulting. She also works on the use of interpersonal skills within the workplace to impact productivity and communication within organizations. She speaks at several engagements throughout the year to draw attention to the principles of I/O psychology.
Non-profit
Dejannae is working within Organizational Empowerment 501(c)3, under Gene Holloway, as well as Koyzak Mentoring and Minority Foundation, as their Human Capitalist.
Connect with Dejannae on LinkedIn