Dr. André Kuipers
Astronaut & Ambassador of Earth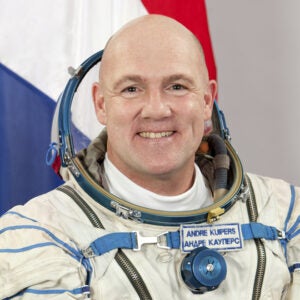 André Kuipers is the first Dutchman with two space missions to his name. His second mission is the longest spaceflight in European history. In total the ESA astronaut spent 204 days in space: 11 days during mission DELTA in 2004 and 193 days during mission PromISSe.
After years of training in Houston, Moscow, Cologne, Montreal and Tokyo, a Russian Soyuz spaceship launched André and his two crew members from Russia and America on the 21st of December 2011 from Kazakhstan. Two days later he arrived at the International Space Station to live and work for six months. On board he was not only a medical doctor, scientist and flight engineer, but also handyman and ambassador for several charities. On the 1st of July 2012, André returned to Earth and landed in his space capsule in the Kazakh steppe.
Astronaut André Kuipers offers a unique look behind the scenes of international human spaceflight. He shares his story about the training, the mission and his exceptional view of our planet.
Connect with Dr. André on LinkedIn