What's Included in the Report?
Assent worked with Endeavor Business Media, a well-respected publication company covering the manufacturing space, to survey manufacturers on the state of ESG. The report features hard data from the official survey of over 150 manufacturers. 
It also explores factors affecting the state of ESG in manufacturing  and provides actionable advice on creating a successful sustainability program.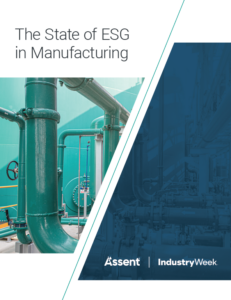 Highlights From the Report
In this report, you'll learn why: 
Over three-quarters of manufacturers are at the planning, beginning, or moderate maturity stages 

Over two-thirds of manufacturers expect their investment in ESG programs to increase in 2023

80% of respondents are somewhat to extremely dependent on third parties such as suppliers to achieve their sustainability goals

Only a quarter of respondents have high confidence in their partners' and suppliers' ability to support their sustainability goals

Less than one-third of manufacturers have high confidence in the quality and accuracy of their supply chain data
Download the report now!