Why Read the Guide
This guide gives you a simple four-step plan to start a manufacturing ESG program, based on expert advice and decades of experience in supply chain sustainability management. You'll be able to follow along and develop your ESG foundation that supports continuous improvement and growth.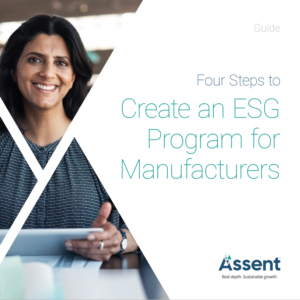 Insights Include:
How to set the right kind of achievable ESG goals

Finding and nurturing support internally and externally for your ESG program

Effectively gathering ESG data from your supply chain
Don't let ESG's complexity delay you from launching a program. Let Assent's experts guide you through the process so you can start seeing results. Download your copy today!