Every year, Assent publishes the Budgeting for Compliance and ESG eBook — the go-to guide to help companies produce next year's annual budget for their compliance and supply chain sustainability programs. Here is your sneak peek at the first chapter: The Regulatory Landscape. This chapter outlines some of the key shifts in the regulatory landscape that should be taken into consideration when planning your program budgets. You can also download the complete eBook for free here.
Chapter One: The Regulatory Landscape
For the purposes of this eBook, we will examine the regulations and market pressures related to supply chain sustainability, specifically those pertaining to product compliance and ESG that many companies previously referred to as corporate social responsibility (CSR). These two areas represent the majority of topics related to human health, human rights, environmental protection, responsible sourcing, fair labor practices, and other criteria necessary for deeply sustainable supply chains.
At a high-level, product compliance regulations are created by governments, and companies must meet their requirements to attain market access and avoid financial penalties. In contrast, ESG requirements are established by investors, industry, and customers. These groups use ESG performance as a crucial metric to decide where to invest or who to buy from. However, recent legislation is blurring the lines between these two fields, as ESG becomes more formally regulated with stiffer penalties and market access impacts of its own.
"So [the EU has] this new focus on green initiatives and the circular economy. Through these initiatives, they're going to be looking at lots of their directives and regulations to make sure that they're as green as possible — that they produce the circular economy." — Stacey Bowers, Manager, Global Market Access at Compliance and Risks
By examining regulatory trends, manufacturers can better predict and understand their future requirements, allowing them to budget effectively and prepare accordingly.
Product Compliance
Largely led by the EU, in the past five years, we've seen significant expansion to the:
EU Registration, Evaluation, Authorisation, and Restriction of Chemicals (REACH) Regulation

EU Restriction of Hazardous Substances (RoHS) Directive

EU Waste Framework Directive (WFD), which mandated the creation of the Substances of Concern In articles, as such or in complex objects (Products) (SCIP) database
We also saw the implementation of new regulations, such as the EU Medical Device Regulation (MDR), which replaced the outdated EU Medical Device Directive.
In the U.S., we've also seen marked increases in regulatory scope and enforcement, namely through the California Safe Drinking Water and Toxic Enforcement Act of 1986 (Proposition 65) and Section 6(h) of the Toxic Substances Control Act (TSCA), which prohibited the use of common persistent, bioaccumulative, and toxic substances (PBTs) in U.S. commerce.
The implementation of the SCIP database and TSCA restrictions provide useful examples of a firmer regulatory approach than what we've seen in the past. Companies are required to provide significant amounts of data to the SCIP database, which is publicly viewable by media, competitors, non-governmental organizations (NGOs), and others. Forty industry groups lobbied for a later launch date, especially as the pandemic derailed operations around the world. These calls were rejected, and the SCIP database launched as intended whether companies were ready or not.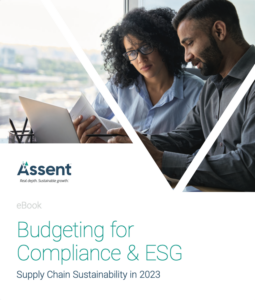 Access the Full eBook
Want to read more? You can read the entire eBook for free by downloading Budgeting for Compliance and ESG: Supply Chain Sustainability in 2023. It explores the regulatory landscape for complex manufacturers and explains how to prepare for the year ahead. When you download the full ebook, you'll get access to this chapter and chapters on:
A Foreword from Assent's Director of Sustainability, Cally Edgren

The Regulatory Deep Dive

Tools for Supply Chain Sustainability

Budgeting for Sustainability
In December of 2020, the U.S. Environmental Protection Agency (EPA) announced the restriction of five PBTs under Section 6(h) of TSCA with near-immediate obligations to scope supply chains and document the use of the commonly used chemicals. The rules were the first part of a planned expansion of Section 6, which could restrict dozens of other chemicals from U.S. commerce. Similar to the SCIP database, industry groups requested additional time and even a full reversal. The EPA allowed for two additional years for phenol, isopropylated, phosphate (3:1) (PIP 3:1), but deadlines for the other four PBTs remained in effect.
This is an important lesson for companies. Difficulty in meeting requirements and even large-scale potential business impacts are no longer enough to halt regulatory evolution. When new requirements are announced, companies should begin preparations immediately to ensure they remain in compliance and avoid potential penalties and disruption.
PFAS